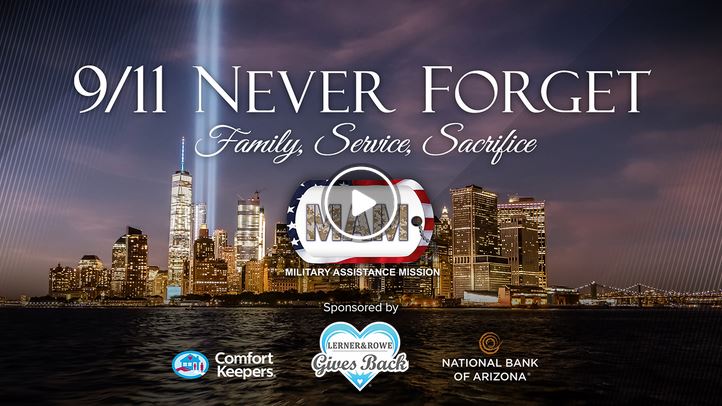 Social distancing may have forced the cancellation of the 7th Annual Military Assistance Mission (MAM) Freedom Breakfast, however, it did not stop the organization and its board of directors from keeping their promise to never forget and honor those who sacrificed so much for our country.
Our team is honored to have been the title sponsor of the 9/11 Never Forget: Family, Service, Sacrifice half-hour special televised event that Arizona's Family put together today to benefit MAM.
It's Not Too Late to Help
The COVID-19 crisis is driving up demand as spouses and guard members get laid off because of the pandemic.
MAM provides financial and morale assistance to the lowest ranking military members.
There are three ways for you to join us in supporting our local military troops: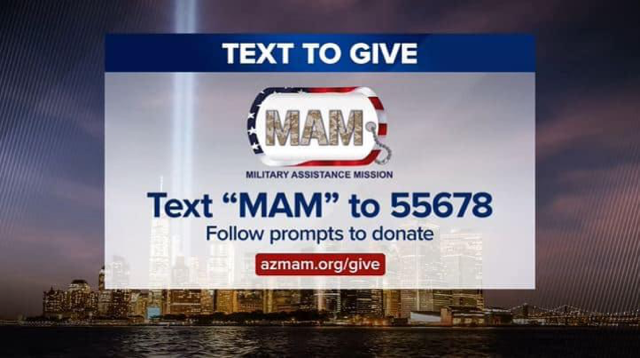 Purchase a 9/11 Never Forget T-shirt
Donate online a minimum of $10 and receive a Heroes Never Forgotten bracelet
Text to Give: Text MAM to 555678 to donate
*With your purchase or donation, you will receive a direct link to watch the 9/11 Never Forget Special on demand.*
Please note that every dollar stays local to fund financial aid grants that provide the following:
Rent assistance to avoid eviction
Grocery gift cards
Car payments
Utility assistance
Gap grants for veterans waiting on their GI Bill for school
Back to school supplies for kids
Baby showers for expecting parents
Christmas gifts for families
Morale boosters like seats for soldiers and home remodels for wounded heroes
Actively Supporting Our Troops
Our team strongly believes in supporting active and retired members of the military and their families. So much so that Kevin Rowe became an active board member of MAM and supports other organizations and activities that seek to assist those who serve to protect the U.S.
Together, we can do more to help help prop each other up and make our world a better place.