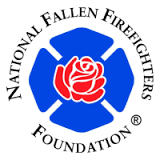 September 2, 2016
Mr. Kevin Rowe, Founder
Rowe Family Charitable Foundation
2701 East Camelback Road Suite 140
Phoenix, AZ. 85016-4323
Dear Mr. Rowe:
We know you have many options for your philanthropic dollars. I would like to thank you for choosing the National Fallen Firefighters Foundation (NFFF). Your recent gift of $1,000.00 for the 2016 Salt River 9/11 Memorial Stair Climb extends your reach. No matter what program you wish to help with your giving, your gift touches many in the fire service and beyond.
Since its inception, the NFFF has honored and supported the families and coworkers of firefighters who died in the line of duty. Your donation ensures we will continue to offer comfort and assistance to families and coworkers who lost the hero in their lives. We would like to share these personal stories that show how important your donation is to the families:
"Thanks to the NFFF, my son Matt was able to achieve his dream and follow in his father's footsteps of becoming a firefighter. Matt's father, Captain Kenny Woitalewicz, died after trying to save an elderly woman in a house fire in 2004. The donations and the support the NFFF receives allowed my son to attend college, and the NFFF was there when we needed them. Thank you for supporting the NFFF." Melissa Woitalewicz
"I appreciate so much all of those returning survivors, the National Fallen Firefighters Foundation and staff, and others who were there for me. I now know that I am not alone on this journey, that others are there with me." Dreama Floersch, wife of Richard J. Floersch
(2013-TN)
As we look to the future the NFFF faces even more challenges and your support is critical to our ability to carry out our mission. Your support of the families and coworkers of America's fallen fire heroes makes a difference in their lives.
Sincerely,
Chief Ronald Jon Siarnicki
Executive Director
The NFFF is a nonprofit, tax-exempt, Section 50J(c) (3) organization. Please let this serve as written acknowledgement and substantiation of your charitable contribution for federal income tax purposes. No goods or services were provided to you in return for your contribution.
www.FireHero.org | [email protected]