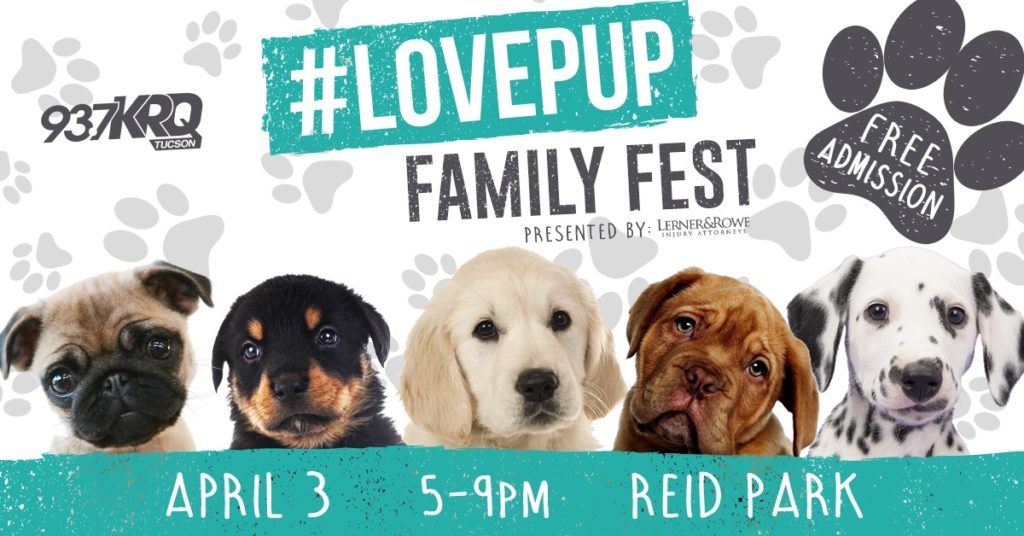 Lerner and Rowe Gives Back is a third year sponsor of the Tucson #LovePup Family Fest. This family-friendly event will take place on Friday, April 3, 2020, from 5:00 p.m. – 9:00 p.m. at Craig Reid Park.
Well-behaved pets are also welcome to attend.
#LovePup Family Fest
Just like the Tucson #LovePup Family Fest 2019, admission is free and you are invited to enjoy good food, music, kid-friendly activities, family fun, and of course, #LovePup adoptions.
Additionally, you won't want to miss out on seeing the live entertainment, or the opportunity to drop off much-needed items used by foster pet caretakers.
Essential care wish items accepted:
Puppy Pads

Paper Towels

Cleaning Spray

Gloves

Dog Food

Dog Treats

Puppy Food

Canned Food

Pedialyte (For Dehydrated Pups)

Laundry Detergent

Towels

Trash Bags

Dog Bowls

Dish Soap
#LovePup also accepts financial gifts. Here's how your financial contribution will be used:
$10 = Puppy Pads for a week

$20 = Dog Food for a week

$50 = Vaccinations or a spay/neuter
At Lerner and Rowe Gives Back, we would like to encourage you to adopt your next furry family member instead of buying. Check out the #LovePup Foundation for an array of furry companions waiting for their forever home.