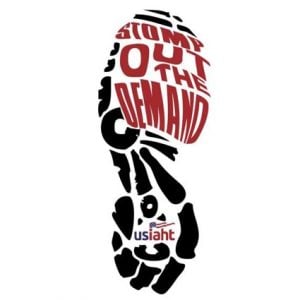 Our team is taking a stand against human trafficking by joining other community partners in sponsoring U.S. Institute Against Human Trafficking's (USIAHT) first annual 'Stomp Out the Demand' 5K walk/run. We will also have a group of walkers at the event "stomping" alongside the other participants to further show our support of the institute's fight against human trafficking.
The race benefits the educational and supportive activities created by the USIAHT to combat the demand for human trafficking and to provide safe environments for victims.
Stomp Out the Demand 5K Details
LOCATION: south end of Sunset Park (2601 E Sunset Rd, Las Vegas, NV 89120).
DATE: Saturday, August 31
TIME(S): check-in at 7:00 a.m. | race starts at 8:00 a.m.
To learn more about how to join us and get involved with the first annual Stomp Out the Demand 5K walk/run, contact Tammy Scott, USIAHT outreach manager, at (702) 518-1222, or via email at tscott@usiaht.org.
---
Photos and recap from the 2019 Stomp Out the Demand in Las Vegas:
Our LRGB team handed out cooling towels, sunblock, and chapstick to the hundred plus runners and walkers who came out to support U.S. Institute Against Human Trafficking (USIAHT) Stomp Out the Demand 5K event at Sunset Park. All who attended enjoyed a festive atmosphere thanks to music provided by Robert Forbes of SOS Radio.
USIAHT National Program Manager, Stephanie Costoto spoke at the event stating that it was such a success that they intend to make it an annual event coinciding with similar events in Tampa and other USIAHT cities.
USIAHT is a national organization with offices in Tampa, Los Angeles, Washington DC, and Austin, recently opened its Las Vegas office. USIAHT Co-Founder and President Kevin Malone (former GM for the Montreal Expos and the LA Dodgers) also made an appearance at the event. He announced the upcoming launch of a Human Trafficking Free Zone Program that is focused upon reducing the demand, the number of buyers for purchased sex, and provide help to buyers and victims.