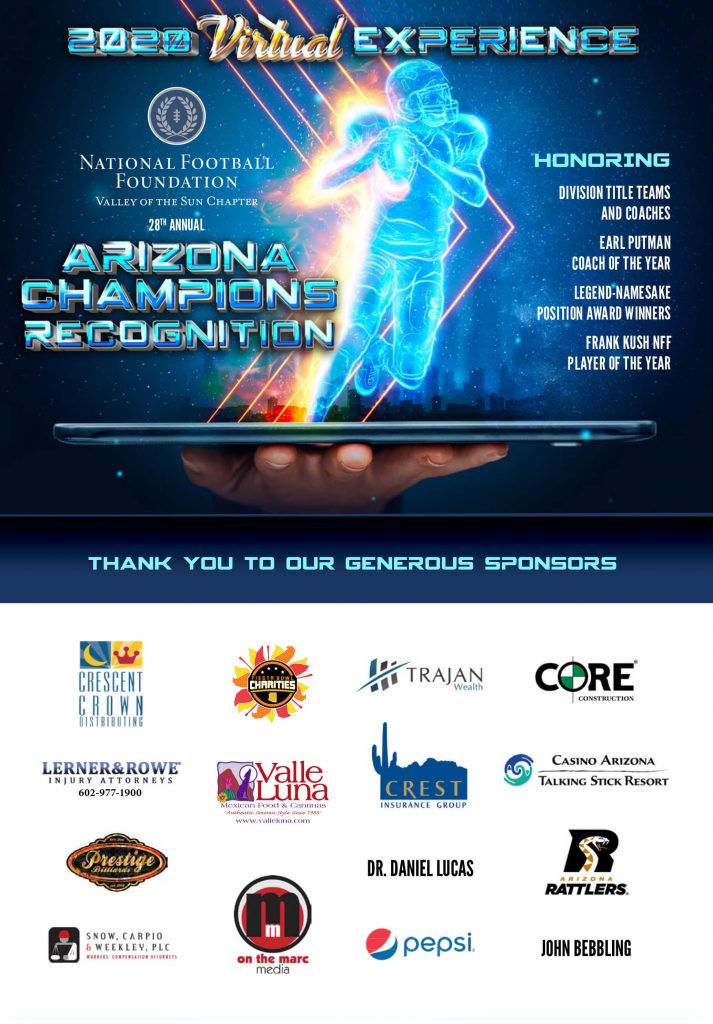 On December 15, Arizona high school senior athletes and coaches will be honored for their achievements in excellence throughout the 2020 school year at the National Football Foundation (NFF) Valley of the Sun Chapter's 28th Annual Arizona Champions Recognition event. This year's event will be hosted virtually on Sports360AZ.com and The Brad Cesmat's Football AZ Show on Fox Sports Arizona with Former NFL Great Jake Plummer joining Brad Cesmat on the show.
Arizona champions to be honored for their 2020 accomplishments include:
Division Title Teams and Coaches
Legend Namesake Position Award Winners
Earl Putnam – Coach of the Year
Frank Kush – NFF Player of the Year
Our team is pleased to be a nine-year sponsor of this event, especially during this extraordinarily challenging year.
When and Where to Watch
In previous years this awards recognition ceremony has been held in person as a luncheon. For 2020, Sports360AZ.com will stream the show on-demand, at no charge, starting on Tuesday, December 15 at 6:00 p.m., 6:30 p.m., and 9:30 p.m. Sports360AZ.com will stream the show on-demand, at no charge.
For more information about the National Football Foundation Valley of the Sun Chapter and the virtual champions recognition event, please contact Bob Boyles at bboyles17@gmail.com.