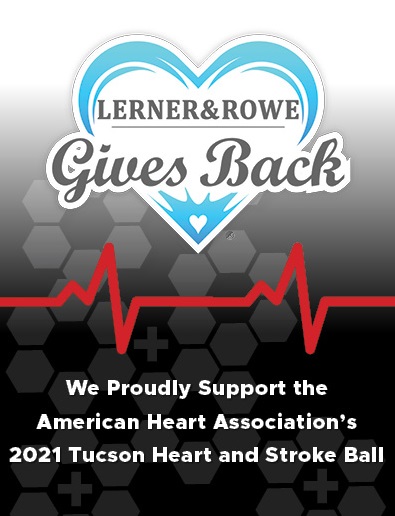 Lerner and Rowe Gives Back is pleased to be a fourth year sponsor of the Tucson Heart & Stroke Ball that directly supports the American Heart Association's fight against heart disease and stroke. Funds raised will be used to support their health and education initiatives efforts in Tucson that advocate for healthy policies and improved hospital quality of care, fund medical research, and promote healthy behaviors that help every heart.
For 2021, the Tucson Heart and Stroke Ball will be a one-of-a-kind digital experience that can be enjoyed from the comfort of your own home on Saturday, February 13, 2021 from 6:00 p.m – 7:00 p.m MST. To participate in this life-saving fundraiser and celebration of life, register online, make an online donation, or bid for auction items online through your smartphone, tablet, or computer.  
You'll definitely want to tune in on February 13 so as not to miss out on this rewarding event and to learn more about the additional opportunities to show support and give back by partaking in the year-round Open Your Heart campaign.  
For more specific information about the 2021 Tucson Heart Ball Digital Experience, please contact Teresa Shami with the American Heart Association at 520-917-7534 or [email protected].
---
Photos from 2020 Tucson Heart and Stroke Ball: