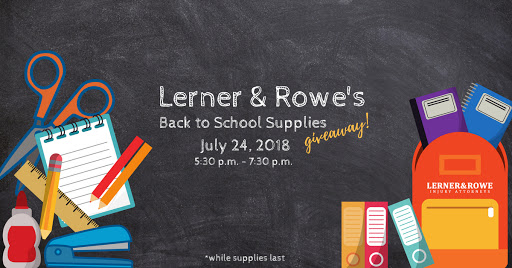 It's almost time for the kids to head back to the classroom to hit the books. This can be a stressful time with mixed feelings from both parents and their children.
To help ease some of the back-to-school anxiety your family might be feeling, Lerner & Rowe Gives Back is excited to announce our much anticipated Tucson Back to School Event and Giveaway!
We'll be giving away 400 backpacks and school supplies that should help take some of the back-to-school shopping pressure off you.*
Come to the Back to School Giveaway in Tucson
Join us on July 24th at 2943 N Campbell Ave., Tucson, AZ 85719, in the Pizza Hut parking lot from 5:30 p.m. to 7:30 p.m. We will have pizza provided by Pizza Hut, as well as popcorn and cotton candy to fuel the fun!
Be sure to come early as supplies are limited and will be given out on a first-come first-served basis while they last.
Please reach out to Cindy Ernst with any questions by calling 602-977-1900 or via email at [email protected].
*Backpacks, school supplies and food items will be handed out while supplies last.
---