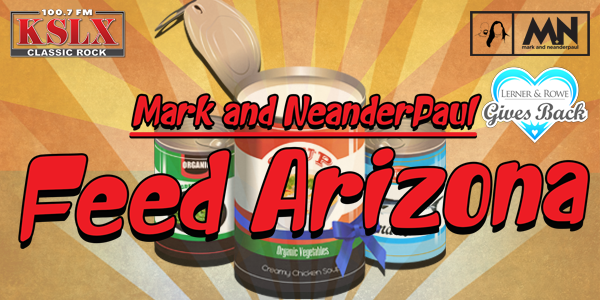 Since mid-March the food demand on St. Mary's Food Bank has increased by 700%. That staggering amount is what prompted the creation of the Mark & NeanderPaul Feed Arizona food drive.
Our Gives Back team couldn't be more pleased to help kick off the drive with a $5,000 donation to help the food bank replenish their supplies and feed local families.
Donations will be accepted online now through June 13, 2020. On the last day of the food drive, Mark & NeanderPaul will be at a Phoenix Safeway store located at 810 E Glendale Ave. from 6:00 a.m. to 6:00 p.m. accepting in-person donations.
$5,000 Provides 35,000 Meals
At first glance seeing that $5,000 = 35,000 meals may seem like an unlikely number. However, St. Mary's Food Bank knows how to optimize every dollar spent, literally. For every $1 received the food bank is able to provide 7 meals.
We invite others to join us in helping feed our neighbors in need. As you can see, any dollar amount donated will add up to a significant gift. Together we can do more! 
---
Hear Kevin Rowe call into KSLX radio and donate $5,000 to Mark & NeanderPaul's Feed Arizona Food Drive. Lerner and Rowe's donation brought the total number of meals covered to 311,000!