Back to School Event with Refuge Ministries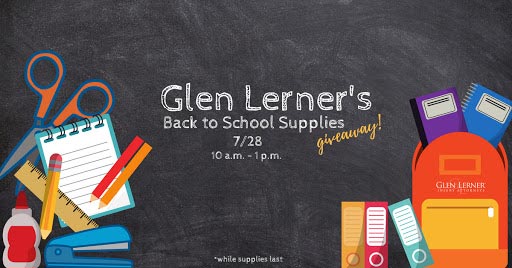 As August approaches, parents and students alike find themselves looking forward to the 2018-2019 school year. In the spirit of education, Lerner and Rowe Gives Back will be giving away backpacks stuffed with Clark County School District designated supplies.
These supplies will perfectly meet the needs of students from first to sixth grade.*
Parents are asked to RSVP in advance at sendrsvp.com/glengivesback or by calling 888-902-3011, x1400. Since backpack supplies are limited, children must be present and accompanied by an adult to receive a backpack. Parents will also need to bring a valid ID to confirm their RSVP in person.
---
Together We Can Do More
Lerner and Rowe Injury Attorneys has partnered with Refuge Ministries and the Las Vegas Metropolitan Police Department to give away these supply-filled backpacks.
"I know that an education makes all the difference in a student's life," said Glen Lerner, personal injury attorney and founder of Lerner and Rowe Gives Back. "Without my education, I know I wouldn't be where I am today. These backpacks ensure that the next generation of students have everything they need."
---
Two Back to School Events for Las Vegas Students
Join us at either of the following events! Bring the whole family for an afternoon of festivities to include live music, a bouncy house, hot dogs and, also, face painting.
---
Time & Location for Las Vegas Back to School Event
When: July 28th from 10:00 a.m. to 1:00 p.m.
Where: Woodcreek Apartments, 4485 Pennwood Ave, Las Vegas, NV 89102
For more information about how Lerner and Rowe Gives Back helps the Las Vegas community, further explore the website at lernerandrowegivesback.com/news/. You can also follow our law firm on Twitter and like their page on Facebook.
*Limited supplies available, as backpacks will be given out on a first-come, first-served basis. Please RSVP in advance.
---
Event Recap
This videos captures just a few of highlights from the Las Vegas Back to School Giveaways. All in all, over 1,000 back packs stuffed with school supplies were handed out! Watch now to see for yourself: