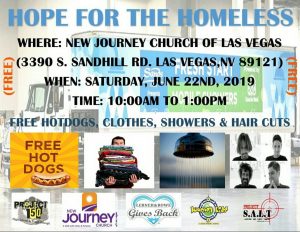 Our Lerner and Rowe Gives Back team partnered today with the New Journey Church by providing food and bottled water for the visitors to the Hope for the Homeless event on the east side of Las Vegas.
The majority of the visitors were homeless people who live nearby. In addition to food, all visitors were provided free haircuts, showers, clothing, and personal hygiene kits. Our team enjoyed caring for our neighbors in need and were able to transport a few of them to local shelters.
"It was a privilege to work side by side with our community partners to make a difference for our poorest of neighbors," stated Glen Lerner.
---
Photos from Hope for the Homeless event in east Las Vegas: