Lerner and Rowe Gives Back's $5,000 Donation to Benefit Arizona Humane Society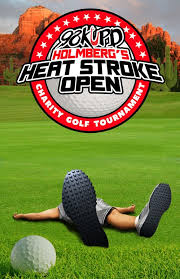 (8/15/18 Update) The location of the 5th Annual Heat Stroke Open has been moved to McCormick Ranch Golf Course in Scottsdale. Start time and golfer rules have not changed.
---
(Original Article)
Lerner and Rowe Gives Back founder Kevin Rowe stopped by Arizona radio station 98KUPD to drop off a $5,000 check for the 2018 Holmberg's Heat Stroke Open on August 25th at Talking Stick Resort.
Jim Holmberg shared his enthusiasm regarding the donation by commenting,"…with the Heat Stroke Open coming up on August 25th, this guy is dropping a check off for $5,000. Which will make this the biggest Heat Stroke Open donation to the Humane Society by far in any of the years we've done this."
Holmberg also extended his appreciation for how Lerner and Rowe Gives Back teamed up with the radio station for the station's annual Operation Hydration water drive. As part of that partnership, we've agreed to double any water donations the station receives in a collaborative effort to support the Phoenix Rescue Mission's summer heat relief campaign. This partnership is in addition to our own water bottle collection drive.
Watch the video now for more details:
---