Annual Phoenix Animal Care Coalition Fundraiser Held to Benefit At-Risk Animals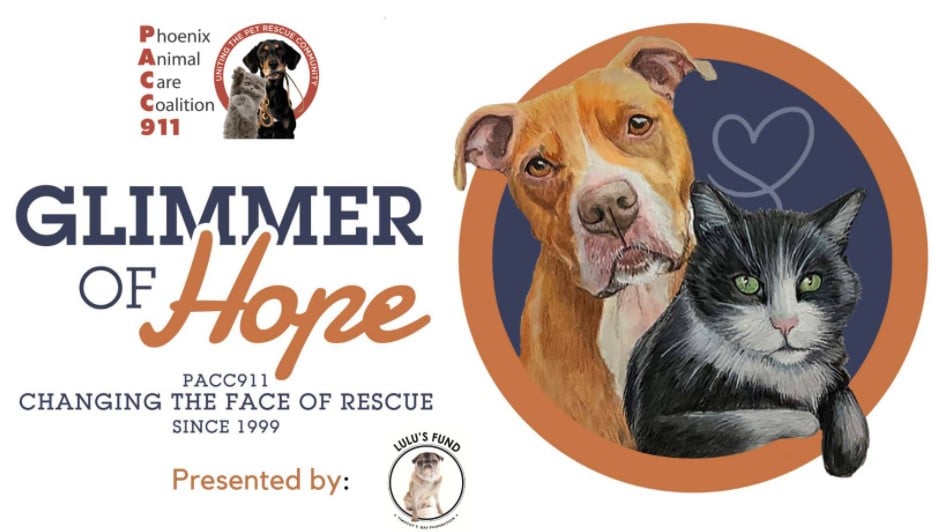 Part of our mission is to advocate for and improve the lives of those who need assistance–that includes the lives of our four-legged friends. As a $2,500 sponsor of the Phoenix Animal Care Coalition's (PACC911) Glimmer of Hope event presented by Lulu's Fund, we get to do just that.
PACC911 is dedicated to helping the most at-risk animals have a "Glimmer of Hope" by providing life saving procedures through its critical care medical program. Funds raised through sponsorships like ours, ticket purchases, individual donations, and auction items will help ensure they can continue to do so.
Glimmer of Hope Luncheon Highlights
Please join us on Sunday, October 18th, from 11:00 a.m. – 2:00 p.m. at the Hilton Scottsdale Resort & Villas (6333 N Scottsdale Rd, Scottsdale, AZ 85250) to support PACC911's efforts to make a difference in the lives of at-risk animals in the Phoenix Valley.
You really don't want to miss out on the before-and-after transformation stories of saved animals, the sumptuously planned meal, and a chance to bid on unique live and silent auction items.
For Glimmer of Hope registration and tickets information, please visit aesaz.co/ELP/GLIMMER21/Tickets. To learn more about the Phoenix Animal Care Coalition, go to pacc911.org.