Lerner and Rowe Gives Back Teams Up with Community Members to Help Fight Childhood Cancer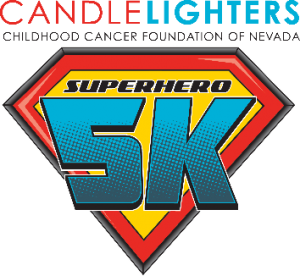 Our Las Vegas area legal team suits up once again in support of local families battling childhood cancer for the 2018 Candlelighters Childhood Cancer Foundation of Nevada's annual Shine for Superhero 5K run and 1-mile walk.
In addition to our sponsorship and participation in the run and walk, we will be giving away drawstring bags* at our booth. Stop by, say "hi," and pick up a bag to carry around the other event swag.
Candlelighters Superhero 5k
For eight years we have actively supported the Candlelighters Childhood Cancer Foundation of Nevada. The Superhero 5k is a favorite event for our team.
We invite others who share our desire to help fight childhood cancer to join us in giving back and supporting this amazing organization that does so much for those dealing with this disease. You can do so by registering online for the 5k run or 1 mile walk. You can also make a donation online. ALL funds raised from the 2018 Candlelighters Superhero 5k will directly benefit the children and families assisted by Candlelighters.
The following includes other important event details:
Date: Saturday, September 15th
Time: Registration opens at 6:30 a.m. | 7:15 a.m. warm up with TruFusion | 5k run and 1 mile walk starts at 8 a.m.
Location: Exploration Park at Mountain's Edge (9700 S Buffalo Dr., Las Vegas, 89178)
In addition to the 5k fun run and 1 mile walk, there will also be:
food;
kids zone;
raffle prize drawings;
live music;
vendor booths (stop by ours for a free gift*);
a bone marrow;
Lerner and Rowe Gives Back booth with giveaways:*
and, more!
Find out more about the Candlelighters Superhero 5K with Chet Buchanan by calling (702) 737-1919, via email at [email protected] or visit candlelightersnv.org.
Connect with our Lerner and Rowe social media accounts today to view photos of our team at the Superhero 5k. You'll also stay up-to-date regarding future giveaways, legal hot topics and more!
Facebook | Twitter
*while supplies last