Lerner and Rowe Injury Attorneys Present the 2017 Richard Nelson Courage Award
2017 Richard Nelson Courage Award Winner Isaiah Morris
On Saturday, June 3rd, Lerner and ROwe Injury Attorneys partnered with the annual Best of Nevada Preps award show to present the 2017 Richard Nelson Courage Award at the Venetian hotel-casino. There were 846 student-athletes in attendance representing 112 Nevada high schools at the 2017 Best of Nevada Preps Awards, which acknowledged the most outstanding athletes in the state from the 2016-2017 academic year to promote the benefits of sports. Hall of Fame NFL running back Marcus Allen spoke to the student-athletes in attendance and offered valuable advice about the transition from high school to college sports.
The Richard Nelson Courage Award was renamed this year to honor the late Richard Nelson's legacy. Nelson, the first recipient of the Courage Award, was tragically shot and killed outside of his Mother's home in Las Vegas while home on his winter break from Missouri State University. At University, Richard continued playing football after a very successful high school career in Nevada.
Richard acted selflessly and proved how he embodied the merit behind the Courage Award when he intervened in a fight to defend his sister from an attacker. The senseless act of violence has deeply saddened the Missouri State University and greater Las Vegas communities, but the courage that Richard possessed lives on through the Courage Award that now bears his name.
Before passing away, Nelson shared a quote from his heart via social media that shows the drive he brought into all aspects of his life. Nelson stated, "I don't want to wake up in the morning without a purpose to do something or make a change. Every day to me is a grind and always will be. Nothing comes easy, and I don't like easy. Make me work for it so I know I earned it and deserved it, 100%." This year's Richard Nelson Courage Award recipient, Isaiah Morris, has also shown a clear understanding of the value of hard work.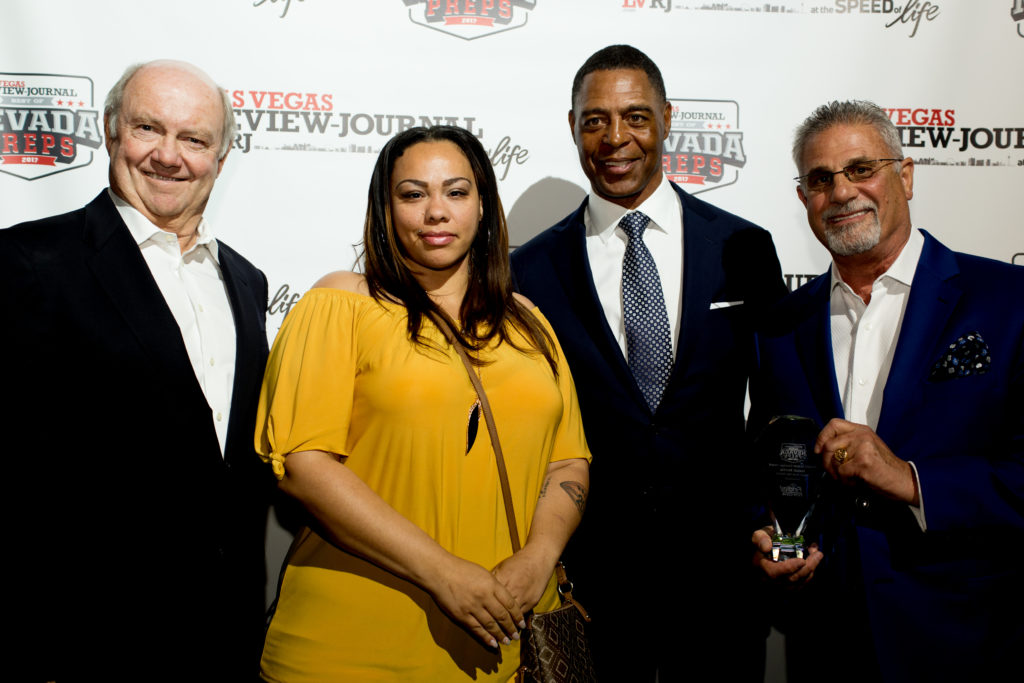 From left to right: Craig Moon President and Publisher of Las Vegas Review-Journal, Roxanne Bruce, mother of the late Richard Nelson, NFL legend Marcus Allen, & Harlan Schillinger of Lerner and Rowe Injury Attorneys
Isaiah Morris led his team to a Class 3A State championship despite having to overcome adversity throughout his life. Lerner and Rowe Injury Attorneys of Las Vegas presented the 2017 Richard Nelson Courage award to Morris and explained his heartbreaking story to those in attendance at the Best of Nevada Preps awards. In his speech, Schillinger stated, "this young man, Isaiah Morris, endured a childhood filled with personal tragedy, but continued to excel on the football field.
His father, Booker T. Morris, died before his son's first birthday when he was hit by a car while riding his bike. Isaiah's mother, Shatah Joshua-Dorsey, was killed in 2012 when she was struck by a pickup truck while crossing the street." Morris's immense work ethic and talent are evidenced by his standout senior season, during which he rushed for 1,816 yards and 24 touchdowns. Like Richard Nelson, Morris's path to football success was earned through the unrelenting hard work he put into his craft and himself behind the scenes.
Morris received an offer to continue his football career into college while staying in his hometown of Las Vegas, and has committed to be on the football team at the University of Nevada Las Vegas next season.
Everyone from Lerner and Rowe Injury Attorneys was honored to sponsor the award show and be associated with the 2017 Richard Nelson Courage Award. The firm is pleased that a person of Isaiah Morris's caliber is staying in the community beyond high school, where the courage he possesses through life can serve as an advertisement of what to do write. Lerner and Rowe Gives Back is committed to supporting the community and helping to improve the lives of others, and the positive impact of high school sports on the youth in Nevada cannot be overstated. Participation in athletics can teach children to set and strive toward goals, believe in themselves, and overcome obstacles in other aspects of life.
Nevada is home to some of the best high school athletic talent in the nation, and Lerner and Rowe Gives Back firmly believes in celebrating and promoting the impressive successes of the area's youth. Glen Lerner's own humble upbringing sparked a desire to improve the lives of the people around him, and the Best of Nevada Preps award show served as a fantastic platform to recognize the young people who have shed a positive spotlight on the area. As part of the law firm's charitable arm, Lerner and Rowe Gives Back supports the community through scholarships and other sponsorships. Lerner and Rowe Injury Attorneys provides legal support to individuals who have suffered injuries from automobile accidents and help people receive the compensation they deserve.