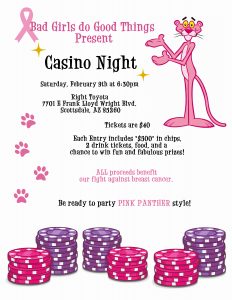 Lerner and Rowe Gives Back is proud to announce their sponsorship of the Bad Girls Do Good Things Casino Night 2019. The evening includes "$500" in gaming chips, two drink tickets, food, and amazing prizes.
When: Saturday, February 9, 2019 at 6:30 p.m.
Where: Right Toyota, 7701 E Frank Lloyd Wright Blvd., Scottsdale, AZ, 85260
Why: All proceeds from this event will go towards funding the fight against breast cancer.
Bad Girls Do Good Things is a non-profit organization in Scottsdale, AZ. They work in the community to support and assist women suffering from all kinds of cancers. The organization presents events such as the Bad Girls Do Good Casino Night to help fund these supportive efforts.
Additional fundraising events the non-profits hosts include the Bad Girls Do Good Things 3- Day Walk, the Susan G. Komen 3- Day, 60 miles walk, the annual Twisted Gold Tournament, and Sizzlin' Summer Paint Out. When they aren't hosting these wonderful events, they make meals, fleece pillows, and more to bring comfort to those in recovery and between treatments.
If you want to join in the fun, visit badgirlsdogoodthings.org/casino-night-2019/ to purchase tickets. Also, visit the Bad Girls Do Good Things Facebook page for updates on this exciting event.
More About Lerner and Rowe Gives Back
Our non-profit organization, Lerner and Rowe Gives Back, exists to give back to the community. We utilize our resources to reach out to youth, comfort those in pain, and give hope to those who need it. Our ultimate goal is to lead social changes on a much larger scale. Please look through our site to learn more about the many organization we love to support.