For the fourth year in a row, our outreach team will host Back to School Backpack Giveaways to give disadvantaged, school-aged youth the basic tools they need to succeed. This year because of COVID-19 restrictions, we will host contactless drive-thru giveaways in Las Vegas, NV; Merrillville, IN; Chicago, IL; Tucson, AZ; and Phoenix, AZ.
At each of the drive-thru Back to School events, school-aged children present in each vehicle will receive a backpack filled with school supplies, to include:*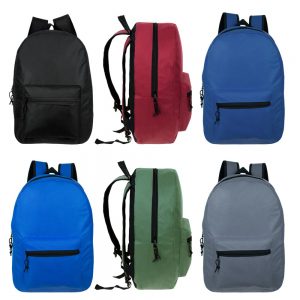 Pens
Pencils
Erasers
Rulers
Hand sanitizer
Scissors
Glue sticks
Crayons
Colored pencils
Pencil pouches, and more!
Locations & Dates for 2020 Drive-thru Backpack Giveaways
Drivers and passengers will be asked to remain in their vehicles at each giveaway and "pop the truck" to accept the backpacks. We look forward to spending time with our community neighbors at the following FREE Back to School Backpack Giveaway events in Nevada, Illinois, Indiana, Arizona, and New Mexico!
August 1, 2020 — Las Vegas, NV from 9:00 a.m. to 12:00 p.m.* | Dean Peterson Elementary School (3650 Cambridge Street, Las Vegas, NV 89169)
***
August 7, 2020 — Phoenix, AZ from 7:00 a.m. to 12:00 p.m.* | Mesa Convention Center (263 N. Center Street, Mesa, AZ 85201)
***
August 15, 2020 — Merrillville, IN from 8:00 a.m. to 11:00 a.m.* | Hidden Lake Park (6355 Broadway, Merrillville, IN 46410)
***
August 15, 2020 — Chicago, IL from 12:00 p.m. to 3:00 p.m* | Richard J. Daley Elementary Academy ( 5024 S Wolcott Avenue, Chicago, IL 60609)
***
August 15, 2020 — Tucson, AZ from from 8:00 a.m. to 10:00 a.m.* | Ministerios Ammijezreel (4102 S. 12th Avenue,Tucson, 85714) AND Family Christian Center (6516 South Burcham Avenue, Tucson, 85756)
*Backpacks and school supplies will be handed out while supplies last. Children must be present for parents to collect a backpack.