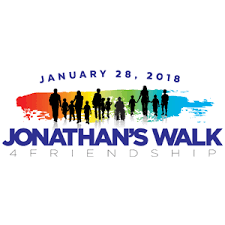 We are excited to be third year sponsors of Jonathan's Walk4Friendship! A record number of people attended last year's walk and even more are expected this year.
Jonathan's Walk4Friendship is a 1 mile walk fundraiser that also helps increase awareness for The Friendship Circle – a nonprofit organization for individuals with special needs. 100% of the money raised will be used to support Friendship Circle's mission of bringing friendship and inclusion into the lives of children who have special needs while also provide support to their parents and siblings.
Walk4Friendship Details:
DATE: January 28th, 2018
TIME: 12:30 p.m. Registration | 1:30 p.m. Opening Ceremony | 1:45 p.m. Walk Begins | 2:15 p.m. – 4:00 p.m. Post-walk Celebration
LOCATION: Chaparral Park | 5401 North Hayden Rd | Scottsdale, AZ 85250
Even if you cannot participate in the walk itself, you can still make a donation online and show your support!
Walk in Memory of Jonathan & The Joy of the Friendship Circle

Jonathan was a participant of the Friends at Home program. Friends at Home creates a fun opportunity for teenage volunteers to spend quality time with children with special needs within the comfort of their own homes.
Jonathan and his buddy Adam spent countless hours enjoying camaraderie, friendship, and true acceptance. Both of the boy's families also connected and developed a lasting friendship. This bond truly reflects the meaning of the Friendship Circle.
After a short battle with cancer in 2010, Jonathan left this world behind. This annual walk is dedicated in his memory and the culture of kindness that he was part of within the teenage community.
Learn more about Jonathan's Walk4Friendship and the Friendship Circle of Arizona by calling (602) 861-1600, or online at jonathanswalk.com.