Each year Las Vegas radio station 98.5 KLUC's radio show Chet Buchanan and the Morning Zoo holds 12 days of giving to accept toys and bicycle donations on behalf of Help of Southern Nevada to benefit local families and hundreds of nonprofit agencies.
On the eighth day of giving of the 98.5 KLUC Toy Drive Glen Lerner stopped by to drop-off a donation of $7,500. The law firm's contribution will be used to purchase more toys, more bikes, and more gifts cards to help brighten the holidays of disadvantaged children and those in need in Southern Nevada.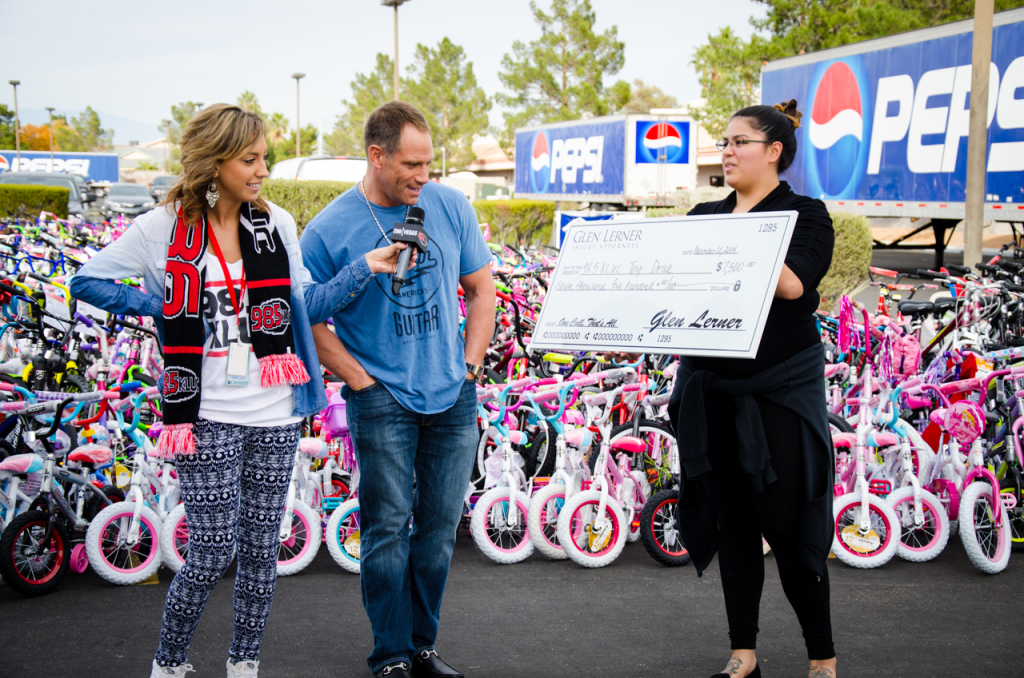 KLUC Toy Drive Drop-off Location
The 98.5 KLUC Toy Drive is located in the NV Energy parking lot at 6226 W. Sahara Ave., Las Vegas, Nevada. Donations will be accepted thru Monday, December 15.
More about Help of Southern Nevada
Help of Southern Nevada is a 501 (c) (3) organization that responds to the changing needs of the poor, homeless, and those in crisis across Southern Nevada. The organization started out in 1970 serving fewer than 300 people a year. Today they assist over 100,000 people in a fiscal year. Contact Help of Southern Nevada today by calling 702-369-4357, or via email at info@helpsonv.org.
{More photos taken at the KLUC Toy Drive 2014}
{Listen to the following clip of Glen's interview with Chet Buchanan.}