Veterans of all generations are personally recognized by friends, families and loved ones at the 6th Annual Honor Walk presented by AZ Veterans Project in Downtown Phoenix on November 13th at Talking Stick Resort Arena. Since 2012, it has been a pleasure for us to partner with the Honor Walk Foundation and to support them in their efforts to provide programs, services and mentoring opportunities that are beneficial to our veterans.
6th Annual Honor Walk and 5K Fun Run Highlights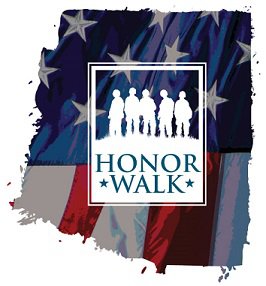 Registration for the Honor Walk is just $30/person. Veterans and children 8 and under register free with any paid registration.
Walk times:
Pre-walk registration at 6:30 AM
Pre-walk activities and entertainement kick-off at 7:30 AM
Walk/5K Fun Run starts at 9:00 AM
Other event highlights include:
Stirring pre-walk ceremony
Vintage military aircraft fly-overs
Live music
Color guards
USS Arizona replica
Walk Organized to Recognize and Honor Veterans
Veterans founded the Honor Walk in 2010 to support more than 670,000 Arizonans who have served and sacrificed in the U.S. military.
This year's presenter, AZ Veterans Project, helps veterans go "Green to Blue" by providing professional networking, mentoring and career services.
Learn more about the 6th Annual Honor Walk and the many ways event funds raised will be used to support our veterans by contacting Rick Young at (602) 531-5021 or via email at ryoung@honorwalk.com.
---
Photos from the 2016 Honor Walk