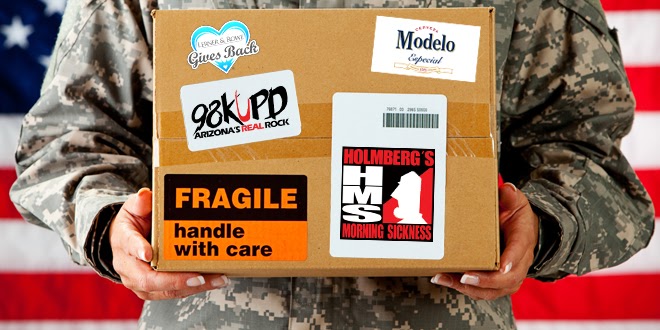 Lerner and Rowe once again supports local members of the military by donating $5,000 to the KUPDeployment packs donation drive. Our donation will be used to purchase needed items for care packages and to cover shipping costs.
This is the third year we've joined the radio station in helping them send some love and a piece of home to the roughly 1,300 Arizona troops who are deployed in the armed services. Last year 963 care packages were packed and shipped overseas.
3rd Annual KUPDeployment Packs Details
The 3rd annual KUPDeployment packs donation drive takes place now through Wednesday, November 11. To comply with COVID-19 restrictions, there will only be a total of 50 volunteers this year from the National Guard, Modelo, and Lerner and Rowe at the November 11 packing party.
There are three ways you can help:
Drop-off donations at live radio remote
Order items from the KUPDeployment Amazon Wish List
Provide a monetary donation
In-person Donations
Donations are currently being accepted for the following new items:
Thick crew-length work socks
Dental products including: toothbrush, full size toothpaste, and waxed dental floss
Disposable razors (1-3 packs, in the original packaging)
SPF lip balm
Travel-size foot/body powder
Hand sanitizer
Flushable wet wipes
Hard candy
Handwritten notes of encouragement
You may join 98KUPD radio at the following Safeway/Albertsons locations Thursday mornings from 7:00 a.m. to 9:00 a.m. to drop off donations in person:*
10/01—Glendale • Safeway at 3800 W. Happy Valley Rd.
10/08—Mesa • Albertsons at 1951 W. Baseline Rd.
10/15—Peoria • Safeway at 12320 N. 83rd Ave.
10/22—Chandler • Safeway at 1159 W. Chandler Blvd.
10/29—Scottsdale • Albertsons at 6965 N. Hayden Rd.
11/05—Goodyear • Safeway • 14175 W. Indian School Rd.
*Dates and locations are subject to change.
Amazon Wish list
Purchase items directly from the Amazon 'KUPDeployment Packs' wish list and have them shipped to the 98KUPD studios by Friday, November 6, 2020.
Monetary Donations
98KUPD is also accepting cash donations online to help pay for packaging costs and the purchase of extra items needed to fill the boxes that are still a little light.
If you have any questions, please call the 98KUPD Studios Monday–Friday, 8:30 a.m. to 5:30 p.m. at 602-629-8660 and ask for the Promotions Department.
---
Photos from the 3rd annual KUPDeployment packing party: