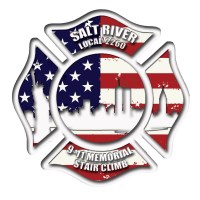 Lerner and Rowe Gives Back is honored to sponsor the National Fallen Fighters Foundation's 9/11 Memorial Stair Climb. This incredible event not only commemorates the heroic men and women who made the ultimate sacrifice in service to their country during the 9/11 attacks on the World Trade Center in 2001, but the survivors and their families too.
9/11 Stair Climb in Commemoration
For the third year, 343 participants will gather to climb the equivalent of 110 stories in representation of the 110 stories inside the World Trade Center. Each of them will be given a small photo of one of the fallen heroes to carry with them as they climb.
9/11 Stair Climb details:
Date: September 9th
Time: Opening ceremonies begin at 9 a.m.
Location: Talking Stick Fields in Scottsdale, AZ
Learn more about the 9/11 Memorial Stair climb and how to get involved by contacting Riley Murph, Salt River Fire Department Event Coordinator, at (928) 241-0071 or via email at [email protected].