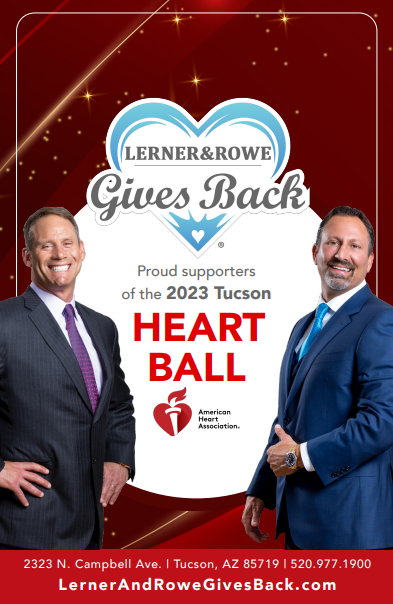 Lerner and Rowe Gives Back is pleased to be a sixth-year sponsor of the Tucson Heart & Stroke Ball that directly supports the American Heart Association's fight against heart disease and stroke.
Critically needed funds raised by this Southern Arizona Heart Ball campaign will be put towards educational initiatives to improve cardiovascular health behaviors, quality of care, and scientific research.
2023 Tucson Heart Ball Highlights
For 2023, the Tucson Heart Ball features a Great Gatsby theme and will be held on Saturday, March 18 from 6:00 p.m. – 11:00 p.m. MST at The Westin La Paloma Resort & Spa (3800 E Sunrise Drive, Tucson, AZ 85718). To participate in this life-saving fundraiser and celebration of life, register and buy tickets online or make an online donation.
For more specific information about the 2023 Tucson Heart & Stroke Ball, please contact Teresa Shami with the Southern Arizona American Heart Association via email at [email protected] or call (520) 917-7520.
---