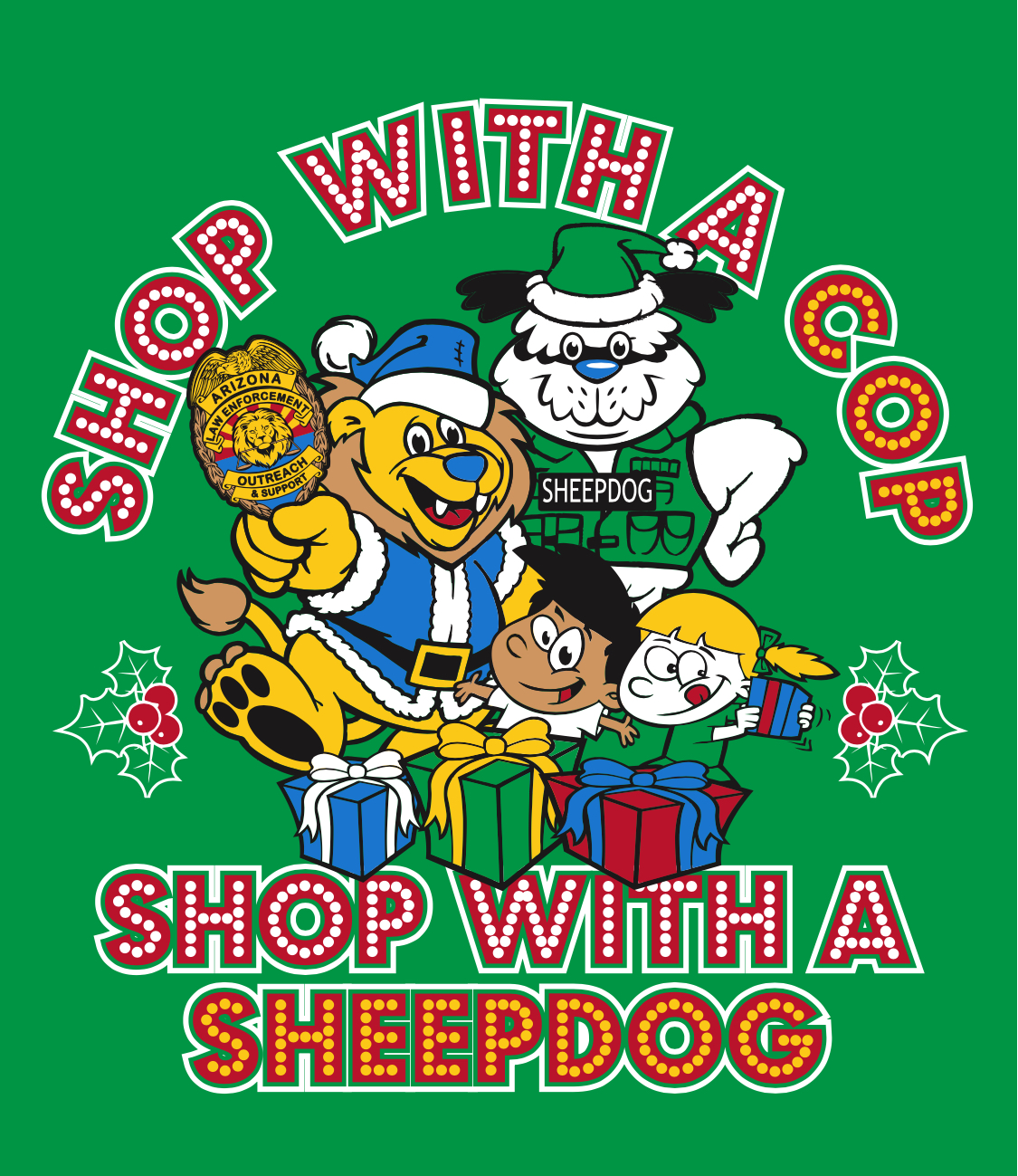 Lerner and Rowe Gives Back joins forces with Right Toyota, Right Honda and the US Marshall Posse as Breakfast Sponsors to treat 750 total kids and law enforcement officers to a hot meal before shopping for Christmas gifts during the 2017 Shop With a Cop, Shop With a Sheepdog charitable activity.
Each child that was pre-selected to participate was chosen through the participating law enforcement department's PALS programs, School Resource Officers and patrol officers.
Additionally, AZ LEOS Shop With a Cop, Shop With a Sheepdog also assists families of fallen, injured or ill officers and veterans or those families whose parent are deployed for the holidays.
Two Days of Eats & Shopping Treats
On December 9th, 160 kids (that were chosen in advance) will be treated to a special hot holiday breakfast before being escorted by a member of local law enforcement that will assist as their personal shopper on a $100 tax free shopping spree at Walmart.
On December 16th, 180 kids (that were chosen in advance) will be treated to a special holiday breakfast before heading over to Target with their very own law enforcement escort to assist them in shopping and spending their $100 tax free Christmas fund.
Fun Facts About AZ LEOS Shop With a Cop, Shop With A Sheepdog
AZ LEOS Shop With a Cop, Shop With A Sheepdog is another amazing example of the reach and positive impact that can take place in a local community when businesses, organizations and individuals come together for the benefits of others.
The following are just a few fun facts about AZ LEOS and their Shop With a Cop, Shop With a Sheep Dog Christmas activities:
Neighbors Helping Neighbors of Scottsdale helped raise $35,000 to pay for the kids shopping.
22 law Enforcement agencies in AZ and all branches of the military are participating in the various AZ LEOS Shop With a Cop events in December.
The average age for Shop With a Cop, Shop With a Sheepdog is 6 – 14.
 A Teen Shop with a Cop took place earlier in the month for 40 teens in the Phoenix Valley.
There will be Princesses, Star Wars characters from the 501st Legion and Mr. and Mrs. Claus at the December 9th and 16th breakfasts.
Santa will be brought to both events in a SWAT tank for the kids to see and they will also lead the procession of the kids with all the squad cars with lights and sirens on from Scottsdale Community College to Walmart and Mesa Community College to Target.
This is the 15th year Shop With a Cop organizers Cindy and Jim Hill have coordinated this fun days of giving. They still get goosebumps watching the kids grin from ear to ear as they stroll with their officers and pick out their presents.  It is as meaningful to the officers as it is for the kids.  That's why each kid and Cop gets a picture to take home with them of the day.  You will see many of them on their desks at work or in their lockers with their family pictures.
Questions? Please contact Cindy or Jim Hill with the AZ LEOS via email at [email protected] or by calling (480) 695-2494.