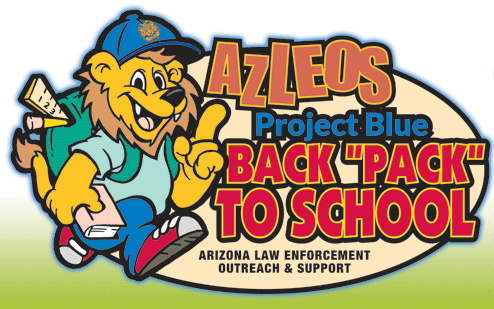 For the second year in a row, Lerner and Rowe Gives Back has donated $10,000 to AZ LEOS Project Blue – Back "Pack" to School program. The donation will be used to purchase back packs, school supplies, and gifts cards for new shoes.
This year's goal is to fill over 300 back packs to assist disadvantaged elementary students in Maricopa County. You can help make this happen!
How You Can Get Involved & Give Back
It's amazingly easy to give back and get involved with AZ LEOS Back "Pack" to School charitable program!
Just drop off school supplies or backpacks at either Right Toyota or Right Honda in Scottsdale, AZ. on Frank Lloyd Wright thru July 15th to the attention of Jane D'Amelio.
Any of the following school supplies would be greatly appreciated:
Children's Backpacks grades K-6
Box 24 Crayons
Pink Erasures
Glue Sticks
Children's Scissors
#2 Pencils
Colored Pencils
Washable Markers
Wide or College Ruled Paper
Hand Sanitizer or Wipes
Small Tissues
Composition Books
Spiral 1 Subject Notebooks
Binders
Haven't Heard About AZ LEOS Before?
AZ LEOS (Arizona Law Enforcement Outreach and Support) is the first of its kind Collaboration Hub for Arizona Law Enforcement, Community Members, Civic Groups, Businesses, and Education.  The 501 c-3 non-profit provides a framework for all of these diverse groups to come together to create and implement true pro-active community policing programs that bring members of the law enforcement community and the neighborhoods they serve closer together.
AZ Leos is run by volunteers and 100% of donations go directly back to the program. Questions? Please feel free to call (480) 695-2494 or send an email to [email protected].
Photos from 2017 Backpack to School Luncheon