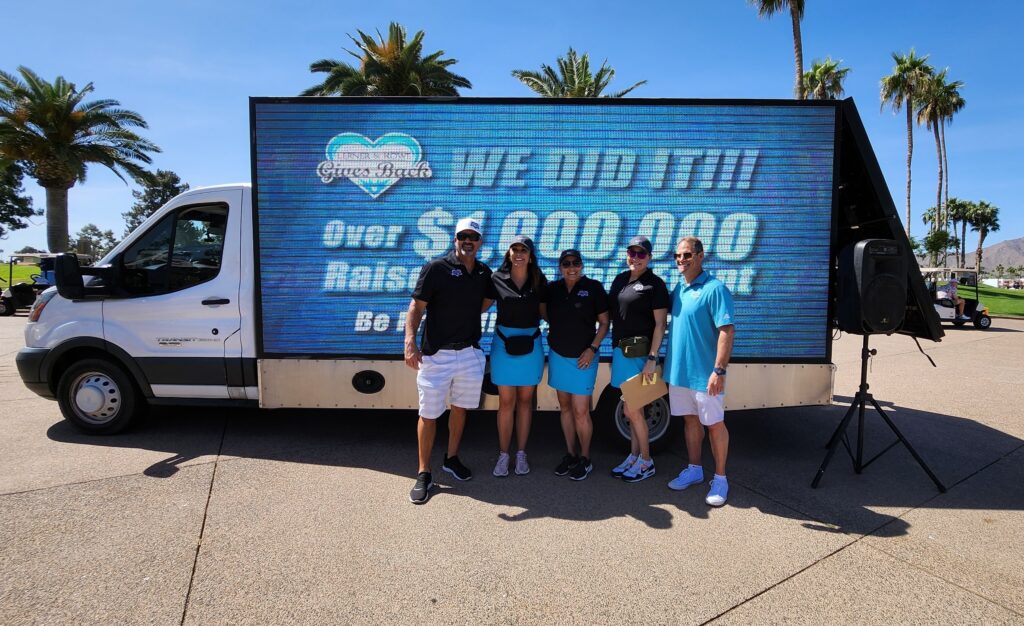 Our 10-year anniversary event was a spectacular success thanks again to the generous hearts and support received from sponsors, donors, team members, and local vendors. 100% of the record–breaking $1,126,718.56 raised will be given back to benefit Arizona charitable groups and organizations throughout the year to include 18 grant cycle recipients.   
Over $3.75 Million Raised in 10 years
Since 2013, Lerner and Rowe has steadily raised essential funds to benefit those in need. We know that each year's notable financial accomplishments would not have been possible without the support of all involved.
Here's a snapshot of what has been achieved:
2022 = over $569K
2021 = over $518K
2020 = over $461K
2019 = $420K
2018 = just over $285K
2017= just over $250K
2016 = just over $200K
2015 = just over $102K
2014 = over $67K
Golf, Giving, and Good Times
In addition to the charitable element of the day, Golfers were treated to breakfast catered by the McCormick Ranch Golf Club and lunch offerings provided by local food trucks, including Cold Beer & Cheeseburgers and Mister Softee. Other highlights include golfer swag items, raffle drawings, live auction, a drone golf ball drop, and an afterparty that featured surprise entertainment by comedian Adam Ray.
"We are more than humbled by the amount of money we raised this year and how the golf classic turned out," said Kevin Rowe, founder of Lerner & Rowe Gives Back and founding partner of Lerner & Rowe Injury Attorneys. "Coming together with our sponsors and donors and supporting the surrounding communities has been an amazing experience. We are excited to see the positive impact the donations will make."
Moments Captured from 10th Annual Charity Golf Classic
We invite you to look through the following photos to share in the many amazing moments captured during our 10th Annual Charity Golf Classic.