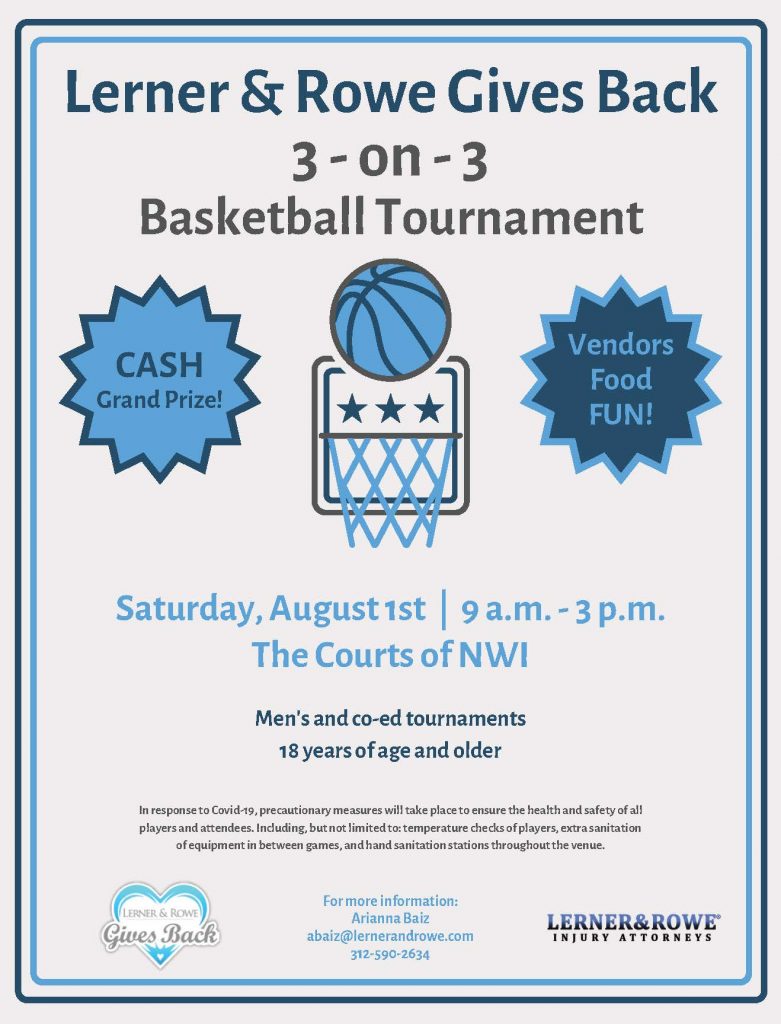 We are excited to host a 3-on-3 basketball tournament in Northwest Indiana! The tournament not only gives us a reason to get together and have some fun, but is also provides an opportunity to help raise money to directly benefit the local economy.
DATE: Saturday, August 1
TIME: 9:00 a.m. – 3:00 p.m.
LOCATION: The Courts of NWI (127 East US Highway 6, Valparaiso, IN 46383)
Precautionary measures will be implemented to ensure the health and safety of all participants, spectators, and vendors. These safety measures will include, but are not limited to:
Temperature checks of players.
Extra sanitation of equipment in between games.
Hand sanitation stations located throughout the venue.
Indoor and outdoor vendors will be spread apart to encourage social distancing.
Division Teams and Cash Prizes
The tournament will be divided into two groups of teams: all men and co-ed. These teams will form the two tournament divisions. At the end of the tournament, one $1,000 cash prize will be awarded to the winning team of each division.
You must be at least 18 years of age and older to participate in the tournament. However, we do have plans for other activities that are open to all ages.
Other 3-on-3 Basketball Tournament Highlights
Participants and guests can look forward to seeing some of their favorite vendors and food trucks from local businesses around the region. There will also be music, popcorn, and small games/activities for kids.
Team fees are $200. Vendor/food vendor fees are $100. Businesses that decide to register as both a team and a vendor can save $50 by paying only $250 to sign-up.
Anyone interested in registering for the event as either a team, vendor, or food vendor should contact Arianna Baiz by email at abaiz@lernerandrowe.com or by phone at 312-590-2634.